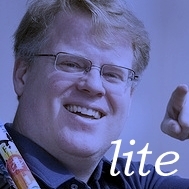 Prolific tweeter Robert Scoble has really been outdoing himself recently. He launched a Twitter flood last night, resulting in 600 of his followers unsubscribing him. He seems to be doing it in an effort to push people to interact with him on FriendFeed, which he evangelizes regularly.
FriendFeed is great and all, but sometimes you just want to enjoy some interesting links and status updates without a lot of conversation. So, I thought I'd try an experiment. First I created a Yahoo! Pipe to pull in Robert's Twitter stream and filter it. For now it's just discarding any tweet that contains an @reply, but I may change that at some point. Then I used Twitterfeed to send new entries in the output of the Pipe to a new Twitter account I created.
I give you… Scoble Lite.
Let me know what you think — either in a blog comment, or on Twitter or FriendFeed 🙂