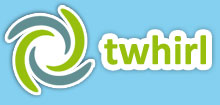 I've been using the twhirl client to connect to Twitter from my Windows Vista computer at work. It's been great, except that links to web pages were opening in Internet Explorer rather than Firefox, which is my default browser. I had noticed the same behaviour in Pownce as well. Both of these applications are built on the Adobe Air runtime.
I found a knowledge base article at Adobe's site which recommends setting the default browser in the Program Access and Computer Defaults dialog in Vista. Here are the steps:
Select Start > Default Programs > Set Program Access And Computer Defaults.
Click Continue in the Security Alert dialog box, if it appears.
Select Custom, and then select your preferred browser under Choose A Default Web Browser; click OK.
The problem I had was that Firefox wasn't showing up as one of the options under Choose A Default Web Browser. The fix for me was to download the Firefox installer and reinstall over top of my existing Firefox installation. After doing that, Firefox showed up in the list.
Note that I had to close Firefox and reopen it after changing the setting for it to take effect. (Before I did that, clicking on links in twhirl had no effect.)